05 Feb 2019
Mini-CALIBER® SWAT Robot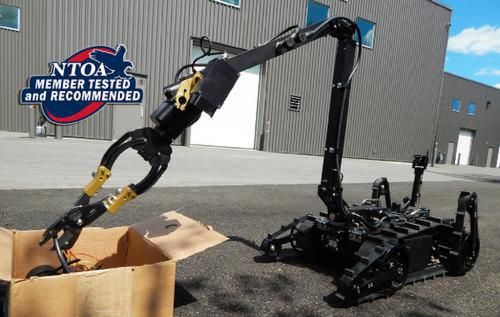 Ottawa, ON (www.icortechnology.com) - The Mini-CALIBER® SWAT robot was designed for man-portable, dismounted operations, where quick deployment time and ease of use are critical factors for missions' success.
The smallest robot of the CALIBER® family, the Mini-CALIBER® SWAT robot received a score of 4.69 out of a possible 5 points from the National Tactical Officers Association (NTOA) Members Tested and Recommended Program. Highlights from the NTOA field testing officer include the following:
"This is a rugged, lightweight mid-size robot with a lot of mission capabilities."
"The best part about this robot is its ease of use. The controller at first can look daunting, but it is very easy to operate."
"The robot climbed steps with no problem, even 12 inch steps. The articulating flippers made it very easy as well as the knobby tracks."
"The cameras on the robot were outstanding."
"I have found the reception (RF wireless) of this unit to be the best of all of the robots I have tested."
"This is a great unit. It is extremely easy to operate and the articulating arm and stair climbing are the best I have tested."
If you would like to learn more about the Mini-CALIBER® SWAT robot or would like to schedule a no-obligation demonstration, please contact ICOR at sales@icortechnology.com or call 613-745-3600.
For more information, go to (social media icons) www.icortechnology.com