28 Feb 2019
100% INSPECTION WITH NO VEHICLE HOLD-UPS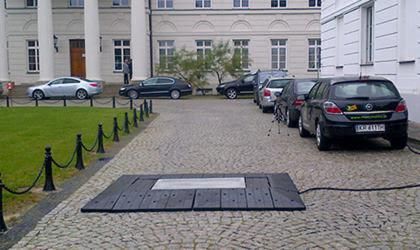 Achieving a balance between effective security and efficient vehicle-throughput at a large scale entertainment event is never easy. Vehicles entering a controlled zone, typically next to or under the event facility, will at best, receive a visual check along with a cursory sweep of a mirror on a stick.
Trials at a major UK installation showed that mirror on a stick inspection can take 2 to 3 minutes for a standard road car, with goods vehicles and coaches taking 3 to 4 minutes. The inspection coverage provided is around 15% of the vehicle underside and the information seen in the mirror is very difficult to interpret.
Replacing the mirror on a stick with the Chemring TS VehicleScan UVIS system will improve detection rates and deter the movement of contraband goods and explosives.
The VehicleScan system is available in static and mobile configurations.
The static installation can be used in developing efficient vehicle inspection infrastructures, screening vehicles through larger inspection facilities and monitoring large volumes of traffic, providing both security and commercial benefits to existing operations, and a solution to the ineffective mirror on a stick method.
VehicleScan's mobile system is suitable for rapid, temporary deployment, enhancing event security operations and monitoring the traffic at front of house vehicle entrances and rear of house loading areas, both of which are vital in ensuring that security is prioritised whilst maintaining maximum traffic flow rates.
The VehicleScan images are provided to the security officer less than 1 second after the vehicle crosses the scanner and with a trained operator, VehicleScan can reduce inspection time to around 15 seconds per car and 25 seconds for a goods vehicle. VehicleScan allows the operator unrestricted time to inspect the vehicle's scan image on screen and reliably identify undesirable vehicle-borne objects.
The VehicleScan system is equipped with a simple graphic user interface that supports the operator with an array of data including the high resolution, full colour, under vehicle scan image: vehicle license plates: driver profiles and search functions.
VehicleScan allows security planners to provide 100% coverage, under vehicle inspection of every vehicle entering a controlled zone including customer car parks, service vehicles access, VIP rapid access lanes or any other area where vehicle checks may be desirable.
Proven globally at airports, sports-stadiums, correctional-facilities, critical-national-infrastructure and business-centres, VehicleScan provides a major increase in security with improved vehicle throughput.